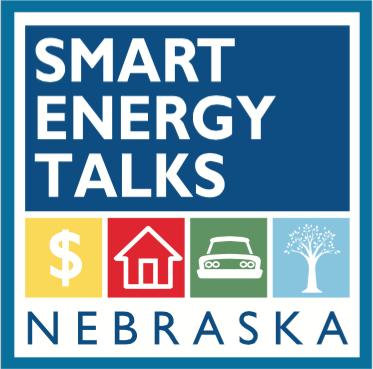 OCTOBER 28, 2017
9:00 a.m. to 2:00 p.m.
UNO'S MILO BAIL STUDENT CENTER
Parking instructions here.
Renewable energy is becoming a part of our community. Come to the 2017 Smart Energy Talks to hear what is happening with solar in Nebraska at the city level and the benefits of adding electrified transportation to the grid. There will also be experts on hand to answer your questions about solar energy systems and a virtual Green Home Tour of local solar installations. This event is FREE and open to all!
PANEL DISCUSSIONS //

9-11:30am
This year's panel discussions highlight "The Powerful Attraction of Communities with Solar and Electrified Transportation."
Welcome and Introduction
Anne McCollister, Director – Nebraska Community Energy Alliance
Air Quality – The Environmental Perspective
Mark Brohman, Director – Nebraska Environmental Trust
Our Research Shows the Benefits are Real
Dr. Moe Alahmad – NCEA Research Team Leader
Panel Discussion: Why Our Communities Want Advanced Technologies that Save Energy, Reduce Pollution and Cut Costs (9-10:30 a.m.)
Stan Clouse – Mayor of Kearney, Nebraska
Lance Hedquist – City Administrator of South Sioux City
Brian Newton – City Administrator of Fremont
Kevin Connot – School Board Member, Allen Consolidated Schools
Moderated by Tim Hemsath, AIA. Vice-Chair, NCEA. Associate Professor of Architecture, College of Architecture, University of Nebraska-Lincoln Research Fellow, UNO's Center for Urban Sustainability.
Panel Discussion: Our Approach to Electrified Transportation: Challenges and Benefits of EV's on the Grid (10:30-11:30 a.m.)
Dave Rich – Sustainable Energy Manager, Nebraska Public Power District
Troy Via – Director of Energy Markets and Trading, Omaha Public Power District
Andrew Ross – Director of Retail Utility Services and Member Relations, Nebraska Municipal Power Pool
Moderated by Anne McCollister, Director NCEA.
TALK TO THE EXPERTS & SOLAR 101 //

10am-2pm
Exhibitors will be available to give demonstrations and offer expert advice on home energy efficiency.
Outside displays will showcase The Smartflower, Solar Demonstration Trailer and Electric Vehicles.
Experts will be on hand to explain the basics of solar technology. Get answers to your questions about preparing your home for solar, costs and savings involved, types of solar energy systems, and how to get started.
See examples of small-scale, off-grid solar projects and demos of a residential grid-tied system.
Take a virtual Green Home Tour of local solar installations.
Share and Join this event on Facebook!
SPONSORS